Dear Church Retreat:
Please still allow me to get decent sleep and some study time in. It is needed for this tired college girl.
Dear Bedroom:
I would prefer if you all turned into
Beauty & The Beast
characters and just cleaned yourself. It would make my life so much easier.
Dear Grocery Shopping:
It's been so long that I'm not even sure I remember how to accomplish you.
Dear New James Bond Movie:
Still haven't made it into my "been there, done that" category of life. The only question is . . . why not????
Dear School:
I don't even want to talk to you anymore. Two weeks and three days until Christmas break!
Dear Christmas:
I'm so excited, because I am ahead in my planning!!! Going to be a wonderful season.
Dear Arrow/Oliver Queen:
If you were looking for a female sidekick alongside Mr. Diggle, I would listen to a proposition. Just saying.
Dear Sister:
Have fun and stay safe in Peru. I love you!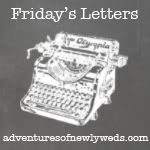 ---