Linking up early with
Ashley from Adventures of Newlyweds
for her weekly "Friday's Letter's".
Dear Third Year:
You are everything and nothing like I planned. I'm so nervous and excited all in one bundle. Help?
Dear Once Upon A Time:
NINE DAYS!
Dear Brother:
Random pizza and Booster Juice dates are the best. Let's never stop doing that, okay?
Dear Burn-Victim-Simulation-Lab:
I will never be as unprepared for anything else in life as I was for you. Let's all agree to forget that disheartening moment in my training.
Dear Dan Bremnes Concert:
There are no words. The Lord truly works through your music and the message that goes with it.
Dear Fall:
I love your yellow, falling leaves.
Dear Whose Line Is It Anyways:
Why ever did you stop? YouTube reruns will have to suffice.
Dear Fiction:
I miss reading you. Come back into my life.
Dear Kate:
Phone calls with you are the best. I miss you.
Dear Meal Planning:
Still searching for you.
Happy Weekend! ♥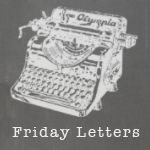 ---